The Homeland Chandigarh Horseshow
The Homeland Chandigarh Horse Show, India's largest annual equestrian festival, featured top-notch equestrian competition, extraordinary social events, devoted spectators, and an unforgettable flair.
It was held at the customary showgrounds at The Ranch, New Chandigarh, and featured top equestrian competitors from India competing in the jumping, dressage, and tent pegging disciplines. This year saw the first Chandigarh Derby and the debut of the city's first sports horse auction.
The Homeland Chandigarh Horse Show held its DERBY DAY on the LAST of its three carnival days, which featured EXEMPLARY horsemanship and entertainment. On Derby Day, the DERBY EVENT, a magnificent, opulent, and genuine championship in the equestrian world, was held for the first time in North India. A captivating jumping course, natural obstacles, perilous falls, and ONE CHAMPION made for the most thrilling Day ever witnessed by spectators.
However, it didn't end there. People witnessed performances unlike any other, the very special GALA, and the 6-BAR event, where the height keeps rising when the rider completes the round with 6 consecutive jumps.
Additionally, a unique horse parade featuring miniature horses was organized. These miniature horses included pure-bred Arabians from France, small Shetlands from Scotland, and traditional Gypsy Cob stallions imported from Ireland. Evening events included a fashion show where miniature horses strutted the catwalk alongside the models.
The Homeland Chandigarh Horse Show was inaugurated on November 4 at 11 a.m. by Dr. Gurpreet Kaur Mann, wife of Punjab CM Bhagwant Mann.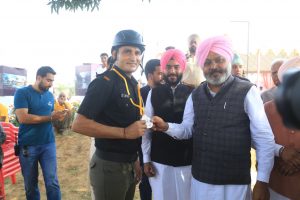 Constable Ajay Marathe won the derby competition on the last day of the Homeland Chandigarh Horse Show, while Head Constables Sandeep Singh and Gurjeet Singh finished second and third, respectively. The chief guest on the final day was Kultar Singh Sandhwan, Speaker of the Punjab Legislative Assembly, and Gurmeet Singh Meet Hayer, Cabinet Minister Punjab.
The final day's "Open Horse Auction" was a special feature of the Homeland Chandigarh Horse Show, which was held at "The Ranch" in New Chandigarh.
In this auction, Warm Blood, Arabian, Gypsy, Marwari, and other types of horses were offered.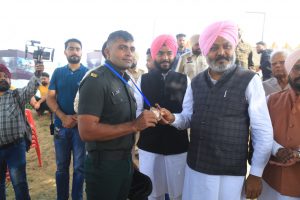 The organizers of the Homeland Chandigarh Horse Show provided thorough information on this by holding a press conference at the Press Club. Speaking about the first national-level auction sale of sports and rare breeds of horses held in India were Harsukhinder Singh and Bubby Badal, the founder of the BabbiBadal Foundation. Everyone was welcome to attend the open auction. There were no reserve prices, and the auction started at 11 am.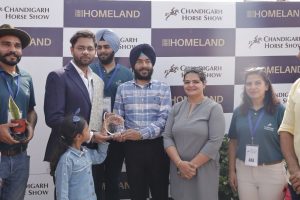 At this press conference, Deepinder Singh Brar, Harjinder Singh Khosa, Ranjit Brar, and Sajneet Singh Sandhu joined Harsukhinder. A significant equestrian event in the area, the Homeland Chandigarh Horse Show also provided a carnival atmosphere for the general public. The equestrian competitions this year, which began on November 2, culminated in a 3-day mega carnival from Friday, November 4, to Sunday, November 6.
Dressage, show jumping, and tent pegging competitions in equestrian sports were held at the exhibition. Every competition followed the rules established by the Equestrian Federation of India (EFI).
They had previously provided information about the show's schedule, which was as follows: the opening ceremony will be held on November 2 with tent pegging and a children's gymkhana program, followed by children's show jumping on November 3 and a horse parade on November 4. On November 4, there was also a dog acrobatics performance planned.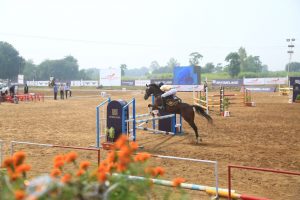 A horse high jump competition was held on November 5. The event of Derby Day and prize giving took place on November 6. This year, the Homeland Chandigarh Horse Show was a more exciting event than ever.
The week-long event, which was planned in collaboration with the Bubby Badal Foundation, was thrilling for everyone. On Sunday, November 6, the Chandigarh Derby was first featured on the show, which was sponsored by Pioneer Toyota. It showcased the best horse and rider combination over 1100 meters of natural obstacles.
The Homeland Chandigarh Horse Show attracted about 15,000 spectators this year, driven by last year's response. At this eagerly anticipated performance, guests were treated to specially curated food booths, unusual children's games, horse conversations, arena walks with live music in the background, and other events.
Homeland, the top real estate company in the area, served as the official title sponsor of the Chandigarh Horse Show this year as a sign of our dedication to fostering equestrian culture there.
THE EPITOME OF THE RETAIL INDUSTRY: MAPIC
Since its inception in 2004, MAPIC India, formerly known as the India Retail Forum (IRF), has served as India's premier annual event for retail brands to learn, develop, network, and experience the future of retail and retail real estate in the fastest-growing market in the world. Over two days, IRF promises to provide an exclusive opportunity for everyone in attendance - from up-and-coming retail brands to the major industry leaders - to meet and connect with the appropriate group of people. MAPIC has continuously been on the cutting edge of the retail revolution, introducing fresh location-based components while staying true to its core objective of bringing together retailers, developers, cities, investors, and specialists to understand, embrace, and advance amazing lifestyle destinations. This has resulted in the attendance of more than 80 nations.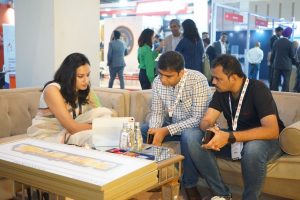 MAPIC has been at the forefront of these dramatic changes and has taken a leading role in embracing leisure, food & beverage, innovation, and the challenges of the new retail mix. Evolving consumer needs are forcing the industry to re-imagine the future of shopping destinations.
In the world's fastest-growing market, MAPIC India is the premier annual event for retail brands to learn, develop, network, and experience the future of retail and retail real estate. Over two days, IRF promises and presents an exceptional opportunity for everyone in attendance, from up-and-coming retail brands to significant industry leaders, to meet and connect with the right group of people.
The event, which took place on September 14th, 2022 at Mumbai's Jio World Convention Center, was a huge success! Key Handover took place at Mapic India 2022 from the groundbreaking mixed-use CP67 development project by Unity Group and Homeland Group!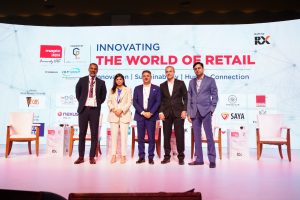 Mr. Nitin Gulati, AVP Head Leasing, spoke about the development pillars at MAPIC India, the most important annual retail event in India, which was organized by CP.67. Mr. Harsh Bansal, Director at CP.67, gave a very thoughtful description of the pandemic's effects and the ethically necessary solutions in the commercial sector's design.
One of the many economic effects of the current pandemic, according to Mr. Mrinal Mittal, Director at Cp.67, who spoke at MAPIC India, is that the commercial sector will see long-term changes in how its spaces are used.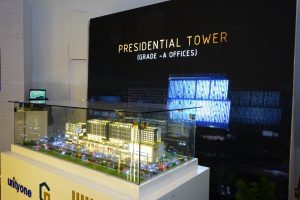 People may now prepare themselves for amazing experiences from their favorite brands, including PVR, Croma, Lifestyle, Max, M & S, and many more, in their neighborhood! To the enduring relationships and the exciting future that lay ahead!
Leasing a commercial space | Is it the right choice for business?
The ever evolving market trends and the ways of doing business in an economical way have coined the term commercial leasing. But first we must know, what defines a commercial property, the answer is as simple as a riddle, it is a space that is within a real estate & is being used for business activities to generate revenues.
Commercial property may include functions of large malls, corporate offices, and hospitality as well. It won't be wrong to say, Commercial or Residential, real estate industry attracts NRI investment, which has widened its scope over the years.x`

What is Commercial Leasing?
Given the challenges for business these days, leasing a commercial space seem to be an economical and rational approach. Simply put, commercial leasing is renting out a space to conduct business operations with a mutual agreement. These mutual agreements comprising of array of unique terms and conditions defining the ownership of tasks and duties, is known as Commercial Lease. It is also referred to as long term duration lease and cannot be cancelled by the tenant/lessee or owner/lessor only at the discretion. Commercial lease is quite a complex document which covers or should cover all the trivial aspects from lessor's and lessee's perspective.
As an investor, it is suggested to check all the merits and demerits of the commercial lease before the start of the operations to avoid taking any wrong decision. So let's talk about the advantages, why leasing a commercial property might be useful.

From lessor's point of view:
1. Leasing has the economic growth potential that is recession-proof and can be maintained while the other businesses are not in good shape. Courtesy to the constantly increasing demand of office leasing as a cost-efficient way of financing. 2. Leasing not only helps in continuous income but also the owner enjoys the benefits of capital appreciation as the price of the property continues to rise over the time. 3. Also the lessor has the benefit of gaining the salvage value of the property. Salvage value is the price of the property after considering the depreciation of over the years. 4. Leasing a commercial property leads to quicker returns on investment as the rental income starts immediately after finalizing the deal unlike other options which are time consuming. 5. Even though the risk of maintaining the property and other liabilities are being transferred to the lesse through the lease, the ownership rights of the property still stays with the original owner that is the lessor. So depending upon the terms and conditions of the lease, the lessor may have the option of selling the property after the completion of the lease.

From lesse's point of view:
1. Leasing a commercial property to run your business is a very healthy and cost-effective way to enjoy the gains without having to invest in the property from the beginning. 2. It reduces the risk of losing the capital investment while the same can be utilized in other operations of the business to focus on the smooth functioning rather than making huge investments beforehand. 3. Leasing a property also gives you the rights of possession that means maintaining and designing the property as per the choice, which is a very good incentive as one can design the surroundings as per the business's specific requirements, for e.g. an advertising agency would need a peppy and lively environment to inspire the creativity and energy in its employees. 4. Since leasing a commercial is an economical approach, one of the main benefit could be, the one can start working at the most elite and strong location without having to worry about buying an office in that area that is now being called as a hub (IT hub, Retail hub etc) 5. Lesse also enjoys the benefits of tax deduction since he/she doesn't own the place and can avail several benefits under tax regimes by showing rentals, which also adds to the revenue of the business indirectly. 6. Lesse also doesn't have to worry about the change in the rentals even if there is an overall increase in the rentals of the location, as, after finalizing the commercial lease the rental is locked for few years and cannot be changed during the tenure.

Is it the right choice for the business?
Since every coin has two sides there are certain demerits as well but on the whole leasing a commercial property is never a wrong choice provided the lease agreement is thoroughly prepared and the interests of all the parties involved is kept intact with utmost transparency and fairness.
It is always suggested to take legal assistance before making the lease decision as it is known to be a document that contains all the intricacies regarding the agreement that is going to in effect for a long time. Otherwise the overall trend of leasing a commercial property has proven that the option always lead to gains.
Top 7 Key Factors to consider while leasing a Commercial Property
Before negotiating a commercial lease, it is critical to evaluate your business necessities and pick out the cutting-edge and the future area need and desires. Additionally, also determine your budget, and desired location, hence the landlords. Connect to a couple of service vendors inside the arcade due to the fact various alternatives lend you an advanced part and give you the capacity to walk far from any stalled negotiations.
Following are the top 7 factors to consider when leasing a commercial property!
1. Think before you click!
Locating the proper location for your enterprise might be a time-consuming, demanding process. Must have a look at as many
properties as possible
, and be open-hearted to a range of locations! The right vicinity in your enterprise can be a make-or-ruin proposition so you want to make sure you take some time to do it effectively. Withstand the urge to settle for a much less-than-superior building just to get the technique over with. Moreover, you can choose a building that is close to your vendors and suppliers to cut transportation costs. It is very important to select a
commercial property
to lease where there are various major landmarks, and obviously where your customers can reach you easily! Additionally, in case you ever find yourself equipped to sign a rent – don't! Take an additional day, suppose it over!
2. Take assistance from the best!
Having an agent experienced in business real property is critical, not only to help you find an area but more importantly, to recommend you on the rent negotiations. this will be grueling and pricey in case you don't have revel into your nook. As an instance, are you an 'A' or 'B' elegance tenant? Are you eligible for leasehold improvement incentives? Your agent assists you to navigate the offer!
3. Flexibility to make changes
When leasing industrial assets, don't forget if there may be the ability to make modifications. Business leases commonly remain from five to twenty years. There comes a time when your business has grown, and also you need to make changes or upgrades to the building. Earlier than leasing the assets, ask the landlord if they allow changes to the construction as your enterprise grows. Inquire about the adjustments the owner can approve and what they do not approve so that when that time comes that you can make the changes, the landlord will now not deny their approval and crowning glory. it is essential to lease a business asset that the owner lets in you to make changes that suit your business desires at that point!
4. Tenant improvements
Whilst moving to a brand-new business building, you would possibly need to make adjustments that suit your enterprise necessities. it's miles vital to negotiate the tenant's upgrades fees before you devote yourself to hiring the industrial area. You do not desire to get caught in a place you could make use of most for your needs. You want to look at the condition of the construction and decide the tenant enhancements you want to make. earlier than you lease the building, you need to believe the landowner on how tons manipulation you have got over the tenant enhancements and who will pay for them.
5. Do your homework!
You can discover the proper location is truly no longer as best as you think it is, whilst higher houses – and better fees – may be in a vicinity you had now not formerly considered. Study the local actual property marketplace so that you will have a rough idea of what an honest business condominium rate seems like in your region. Whilst leasing an industrial area, you should not forget its rent. Inquire from the landowner to realize the rent details earlier than you rent the distance. If space wishes some renovations to suit your enterprise needs, the landowner would possibly give you a grace period before you can start paying the rent to finish the upkeep. It'll help if you ask your landlords how lengthy you'll continue paying the lease after your hire ends. Some landlords require tenants to take away modifications to the construction and repair it to how they found it before beginning their lease. It's miles crucial to ask the landlord to make clear if you may continue paying hire until you complete making adjustments to the building after your rental period.
6. Period of lease
Before you commit yourself to signal the hire settlement, you must not forget the period of the lease you need. In case you are starting an enterprise, you might not realize its destiny. It's miles uncertain to you if your commercial enterprise will, nevertheless, be within the marketplace within the next three or 5 years. When you have a long-time enterprise, you can decide on a 5-year lease settlement as you've got a price range to pay for the rent. However, for the growing agencies, a quick-term rent is greater favorable and safe. You do not wish to get stuck in a long-time lease when your commercial enterprise destiny isn't always reliable. A brief lease has benefits as you can shift whilst you feel your business needs every other surrounding or outgrown the distance!
7. Clarity of insurance
While putting a commercial building on the lease, it is important to be clear with the landlord if there is any type of insurance you need to pay. Some landlords who have property insurance might pass the same to you. However, you might need to have
liability policies or insurance for your business!
Bottom line
You have to trust yourself from within and you will do outstanding! Just keep asking yourself questions, what is it you are looking forward to!
5 things to consider when choosing office space in Mohali (Chandigarh)
In these ambitious times, we thrive by adding values to our beings with the sole aim to keep going up the ladder. In doing so, the work has become our only passion and the office has become our second home, hence in the process of achieving success, one of the important value additions we can do to prosper is by choosing the right office space wisely. The significance of choosing the right office space gives a lot of perspective about the business to both, the clients and the employees. It allows people to think about what you do, how you do and how seriously the venture is being driven by their owner(s).

The 5 factors that make your decision while choosing an office space can be:

1. Location
2. Promoters
3. Architecture
4. Pricing
5. Vision


Location: Business is all about people that is why it is important to talk about Location first especially when choosing an office space in Mohali (Chandigarh). This is considered to be the game changing decision while buying a workspace as it tells a lot about the brand image of your business. Numerous vital components like surroundings, connectivity, safety and proximity from important institutes and buildings defines the logic of Location. The more central it is, better the scope is of being called as a prime area of the city or it could be a part of an institutional hub/corporate park which might be located on the outskirts and in both cases it helps to create an impression of your brand with added advantages of seamless connectivity and safe environment. Buyers and sellers always emphasize on location as it is widely known to be the proven ingredient of a successful business.

Promoters:  Second most important factor is the brand you want to get associated with; a buyer's homework includes filtering the best promoter/builder. There are many developers that design and deliver office spaces in Mohali (Chandigarh), offering attractive deals but a smart buyer always know to look at things above and beyond which includes the quality of promoter's past projects and adherence to timelines. If the builder is into developing mix-use property, the chances of having an impressive track-record are higher. A promoter or developer's image depends on just two things – delivering the projects on time and the construction quality of the same. Bigger the promoter, better are the chances of coming up to buyer's expectations as they also have to maintain their goodwill and unlike small developers they don't have difficulty in attaining required licenses and permissions which are the main reasons of the delay.

Architecture: Both attract both - whether it is the architecture of office space or the building in which you want to inhabit the office space, attracts both the clients and the employees. From personnel viewpoint, an aesthetically designed office space offers warm ambiance and a soothing experience that works as a stress-buster while dealing with the professional challenges throughout the day. Icing on the cake would be the scope to customize the office space as per the brand of the business that resonates with the working culture as well. Having offered the flexibility of expanding the office as the business grows with time also is the architecture's brilliance.

Pricing:  Now let's talk about where the world revolves around. Having said all that above, money is still the only factor that can make or break the deal. Affordability will remain the prime factor for a buyer who also has to consider the amount of workforce he will be bringing in. Pricing is done by the developer by keeping mainly the things that we have talked above plus the size of office space in offering, maintenance costs if any, furnished or non-furnished. The kind facilities are being offered by the promoters along with how modernized and technically efficient the infrastructure they are providing constitutes the final cost. Usually the brands like Homeland Group and Unity Group are people's choice as they have track record of delivering authenticity and value for money projects in Mohali (Chandigarh) and Delhi NCR.

Vision:  We all know that an office can do wonders for the brand image of a venture. A buyer who is looking to buy office space should also capitalize on this factor, as the office address has the power to become the signature of a business. If a business that is already growing, would always like to keep its brand value intact, hence would never compromise the importance of an office address. The entrepreneurs always look at the bigger picture while making investments, the returns on the same will always be the area of interest which is why anything that could add the value to their brand eventually giving more appreciation in the investments made, will incentivize them.

CP67, the Mohali's (Chandigarh) largest shopping centre and mixed-use real estate project located on the International Airport road, would suffice all such buyer's needs and allows them to be economical at the same time. We invite you to come see yourself the majestic masterpiece we have created for Mohali (Chandigarh), a perfect concoction of style and professionalism.
How to look for an office space in Mohali?
So, you have lately been looking to own your office space? We understand that once your business grows big, you might want to shift from that co-working space and switch to your own office. So, here we are to answer your primary question of how to actually look for office space in Mohali.
Access your Business Possibilities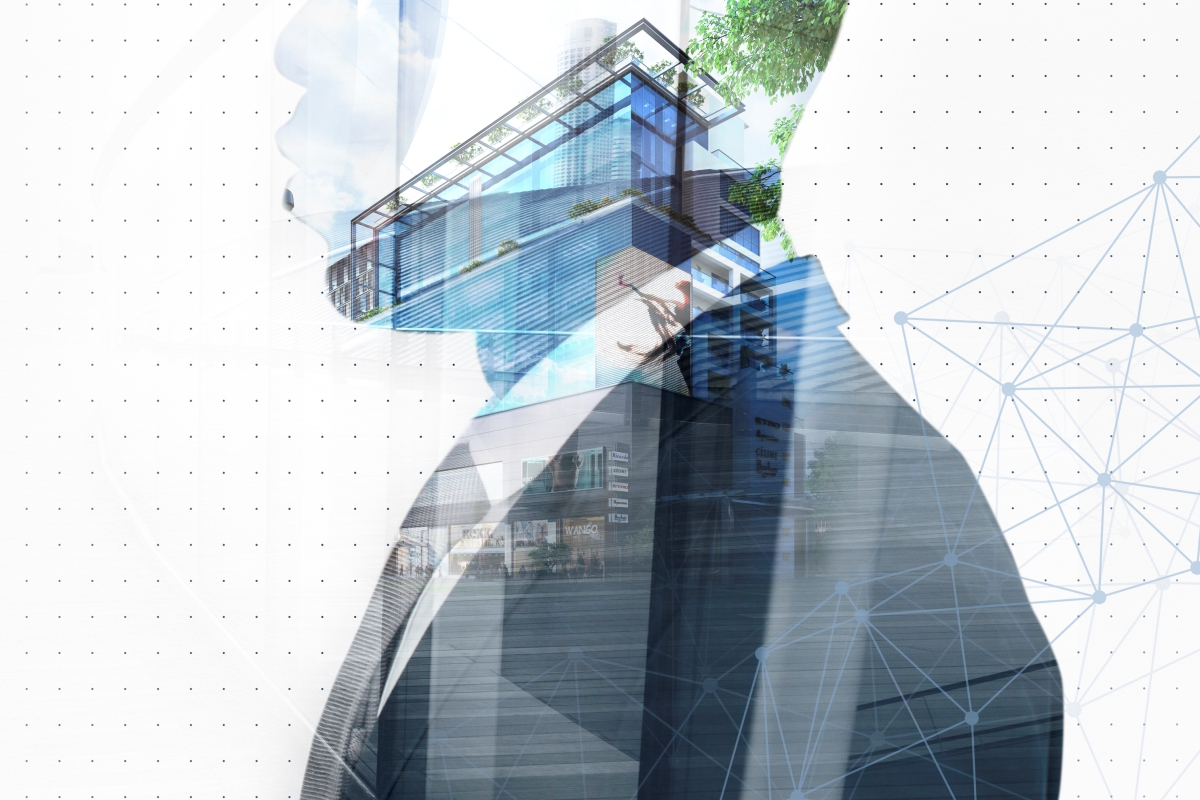 So, while you are going to look for a commercial space in Mohali, it is important to prepare a roadmap for your business first. Here, accessing your business possibilities includes a number of aspects such as location, accessibility, traffic of your location, and many more. This is essentially the first and crucial step in finding an office space in Mohali.
What's your Budget?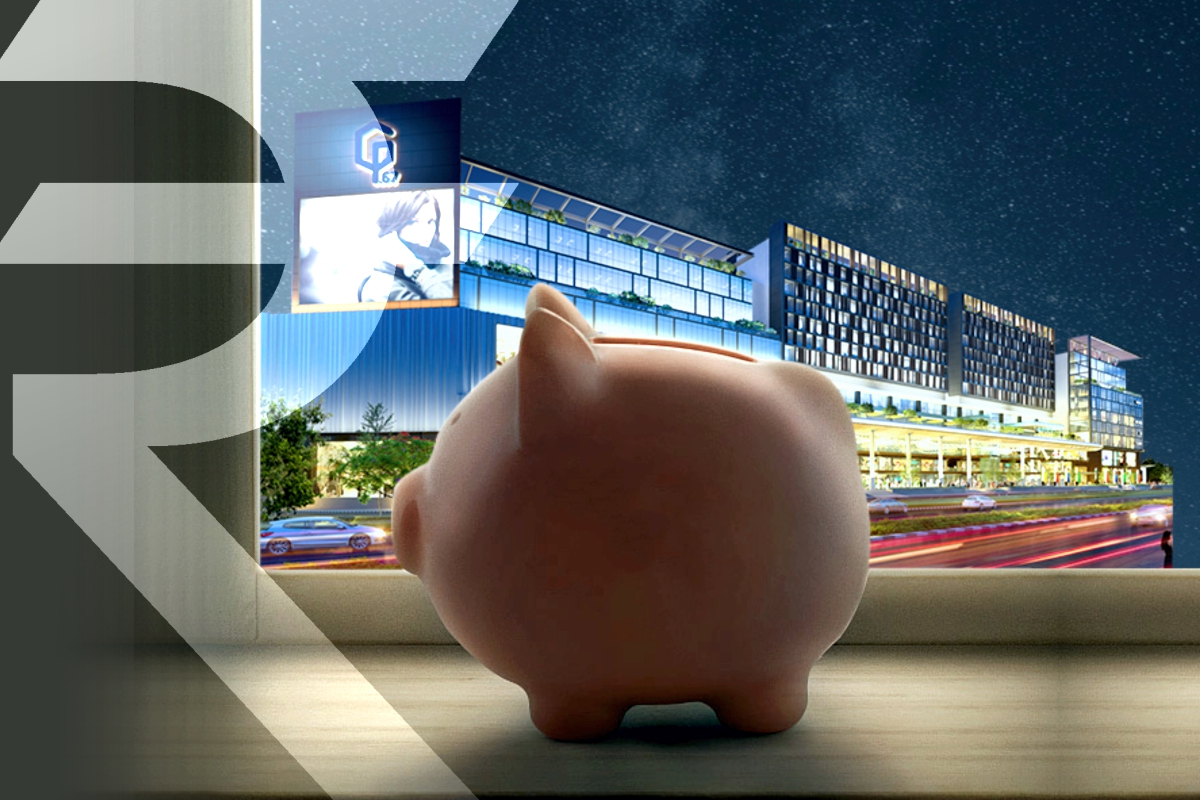 After going through the first step mentioned above, the next big thing is the budget. How you're going to come to a final conclusion in getting an office space in Mohali is going to depend upon your budget which is another crucial parameter to consider. It is advisable that you shortlist a few options from the previous step, and when you are making a final choice while deciding your budget, you should have options in hand across a range.
Contact Real Estate Advisors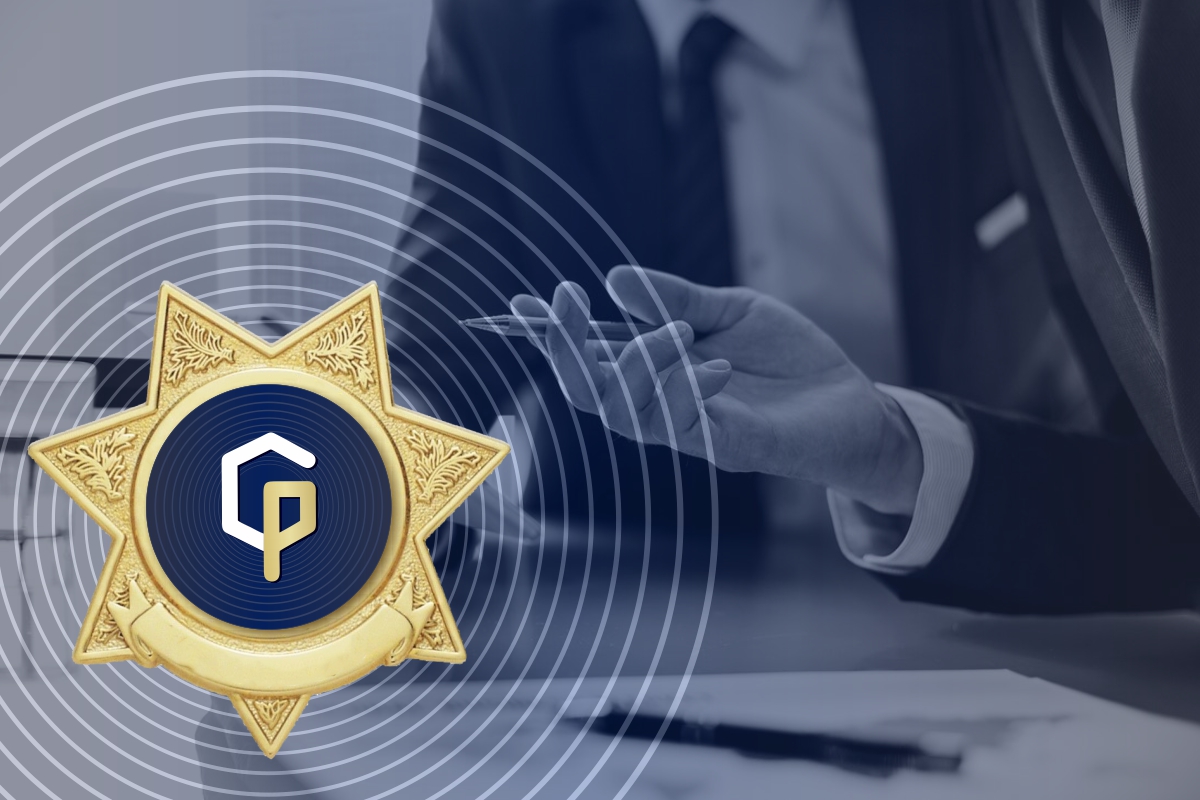 The first two steps stated above involve some research at your own level which will help you in case you have been wondering how to find a commercial office space in Mohali. But next, after all this, you can reach out to a real estate advisor and consult him with your ground-level planning. Keeping your conditions in mind, he can advise you on the best commercial spaces where you can set up a commercial office for your brand. In Mohali, there are different locations which have different strategic importance when it comes to building a business.
Finding your Commercial Space in Mohali with CP67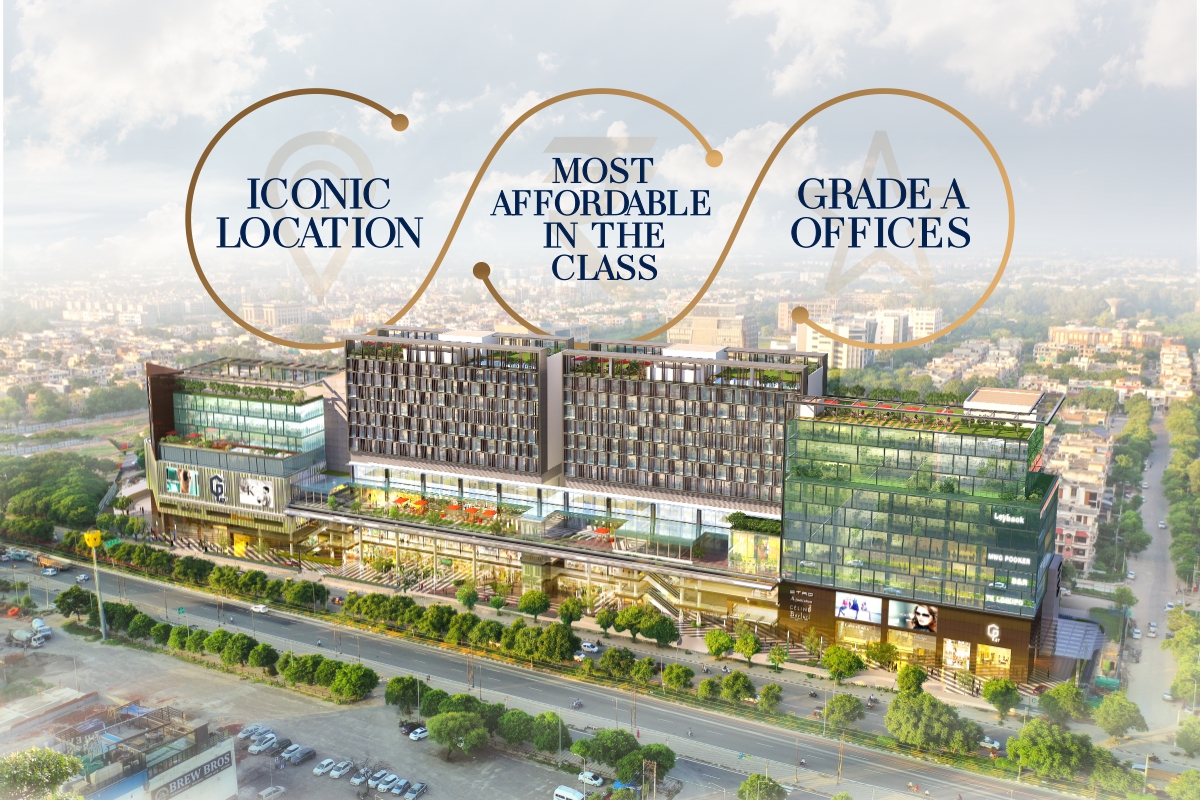 Being ideally located in the international airport road in Mohali, CP67 has a number of commercial space properties that can match up to your parameters as well as fit within your budget too. Many of the companies across various domains are being given preference here and thus you can also find your own office space after a discussion with our experts. Even if you've not worked out much in your ground plan, our team of experts assists you right from the very beginning till the very end of your deal. Not only assisting business owners about the "How's" of owning a business space, but we also advise them about the other things such as the right time, the right location, and the right plan to get their commercial space in Mohali too. CP67 stands firm on its USP of creating unique commercial and residential spaces and providing them to the customers.
5 Factors to Consider While Looking for a Commercial Space
If you are also wondering, "What are some good commercial spaces near me?", or "How do I find a commercial space for sale?", then you have probably hit an answer. Finding a commercial space for yourself can be a tricky situation, specifically during these days when you cannot head out much and there are restrictions due to Covid19. So, to make your task easier, here we are mentioning the top 5 factors that you must consider while looking for a commercial space in Mohali.
Location's Traffic Count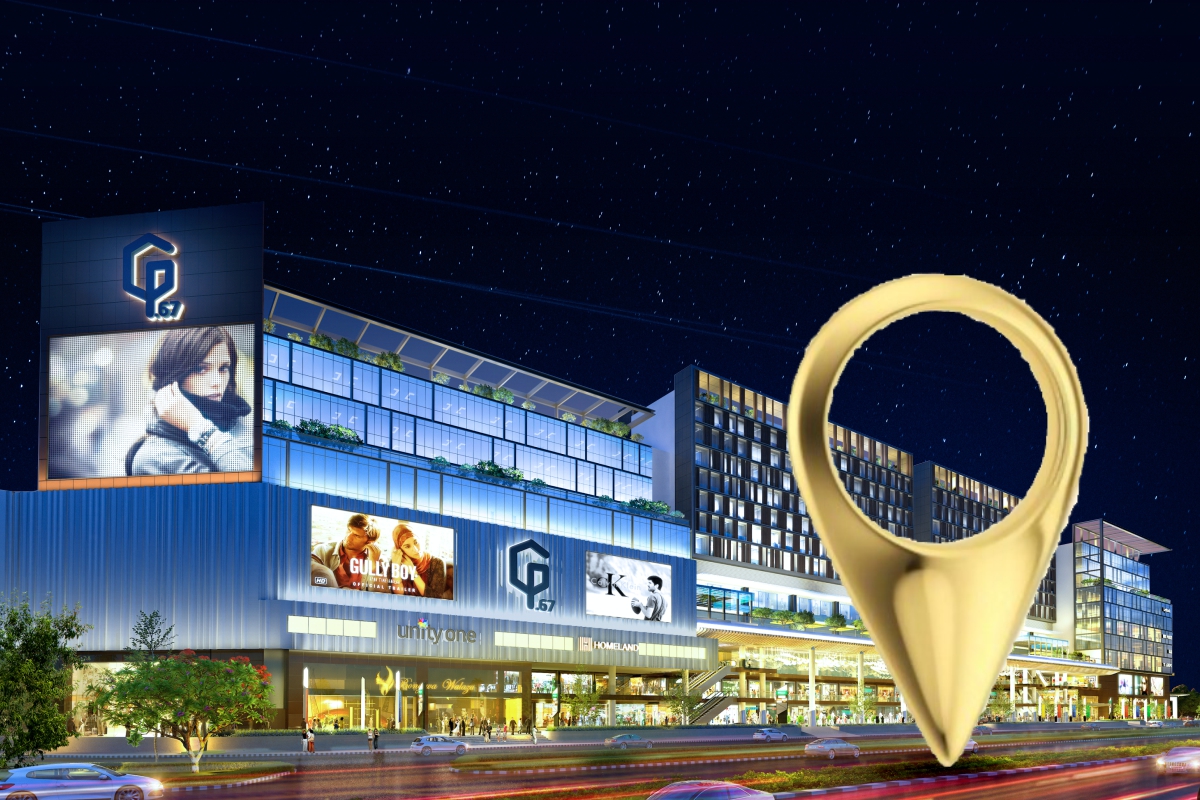 Experts suggest that it matters a lot where your commercial space is actually located with reference to the traffic count. More number of pedestrians and vehicles passing by means there is better exposure. It can also give you a quick idea about the number of potential customers that you may encounter.
Accessibility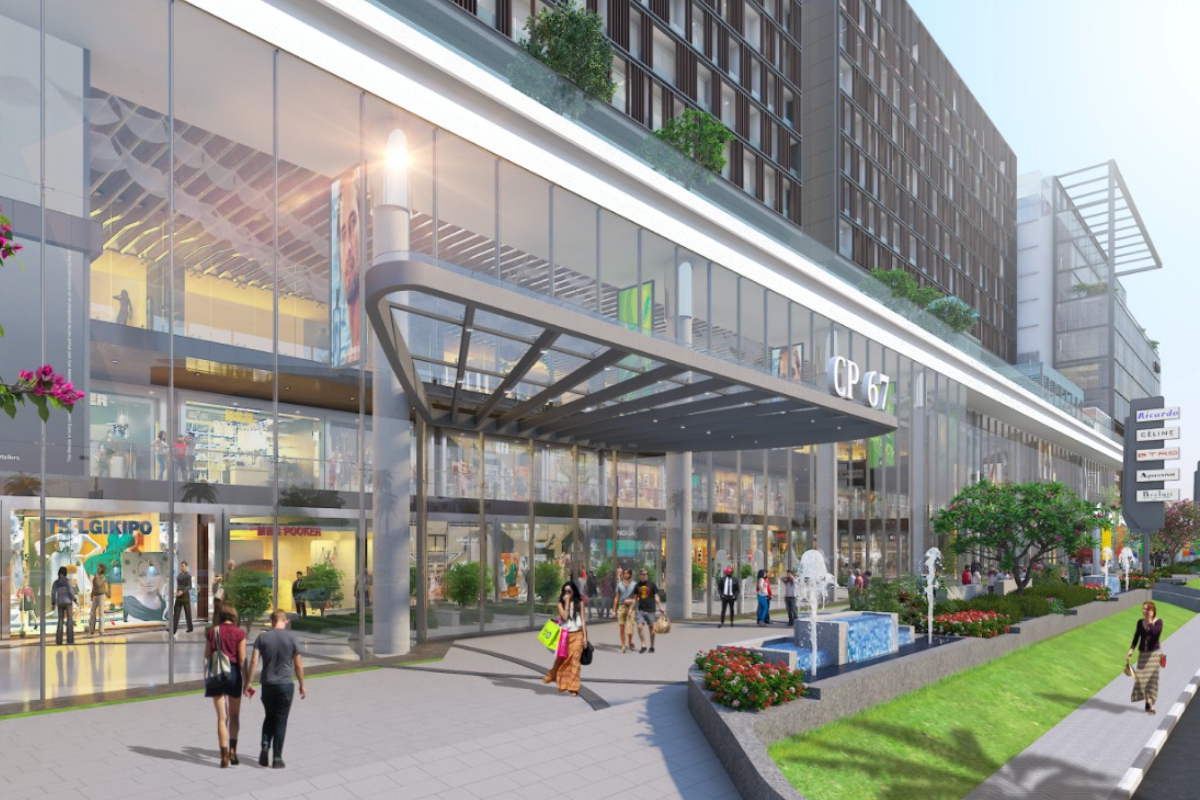 While looking for the commercial space for sale, look for its accessibility too. That is, how easy it is for you to reach the location. For example, a commercial space located at the corner with a signal is easier to locate than a commercial space for sale somewhere in the middle of a block or an internal side of the area.
 Customers are often lazy. Hence, it is quite obvious to assume that the commercial spaces at a minimum distance are likely to be approached readily by the customers.
Design and Shape of your Space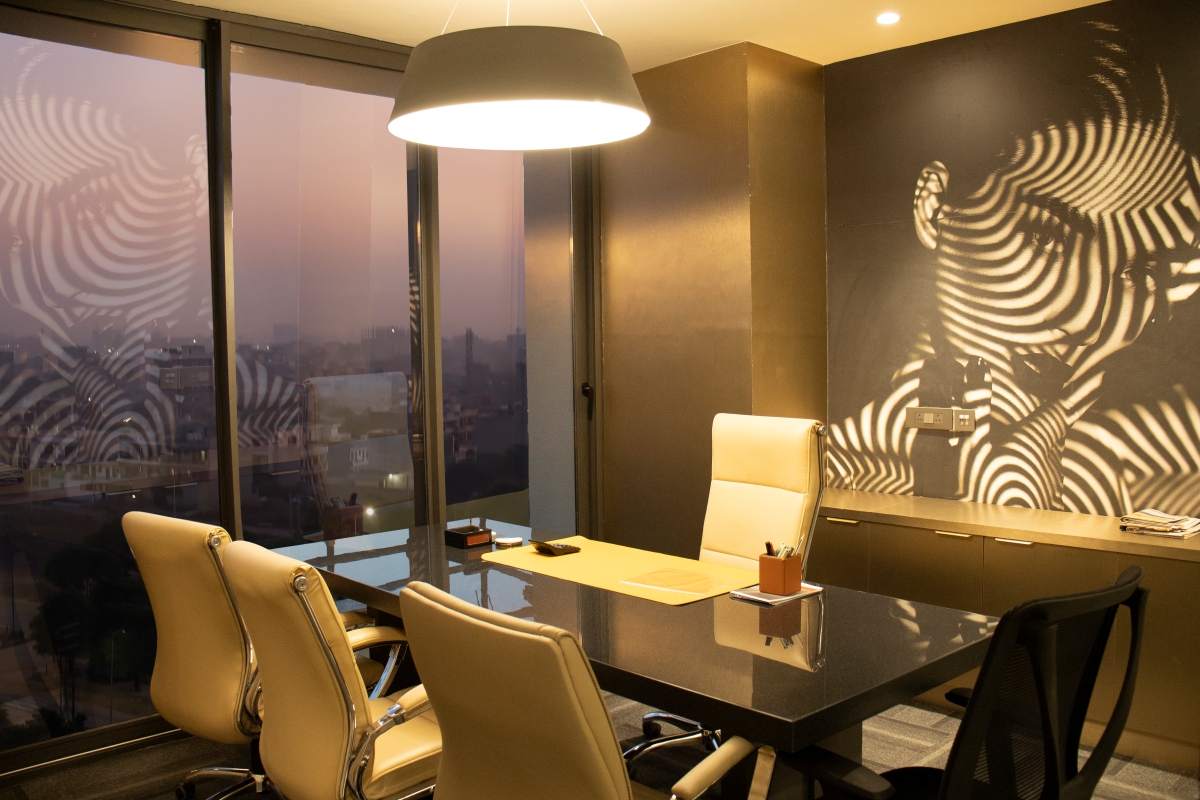 Now, here we are not talking about the Vastu, that is something which depends from person to person. What we are talking about is the way incomers perceive the space once it is ready to function. Being the owner of the space, at a certain point in time, it will matter to you as well.
The Locality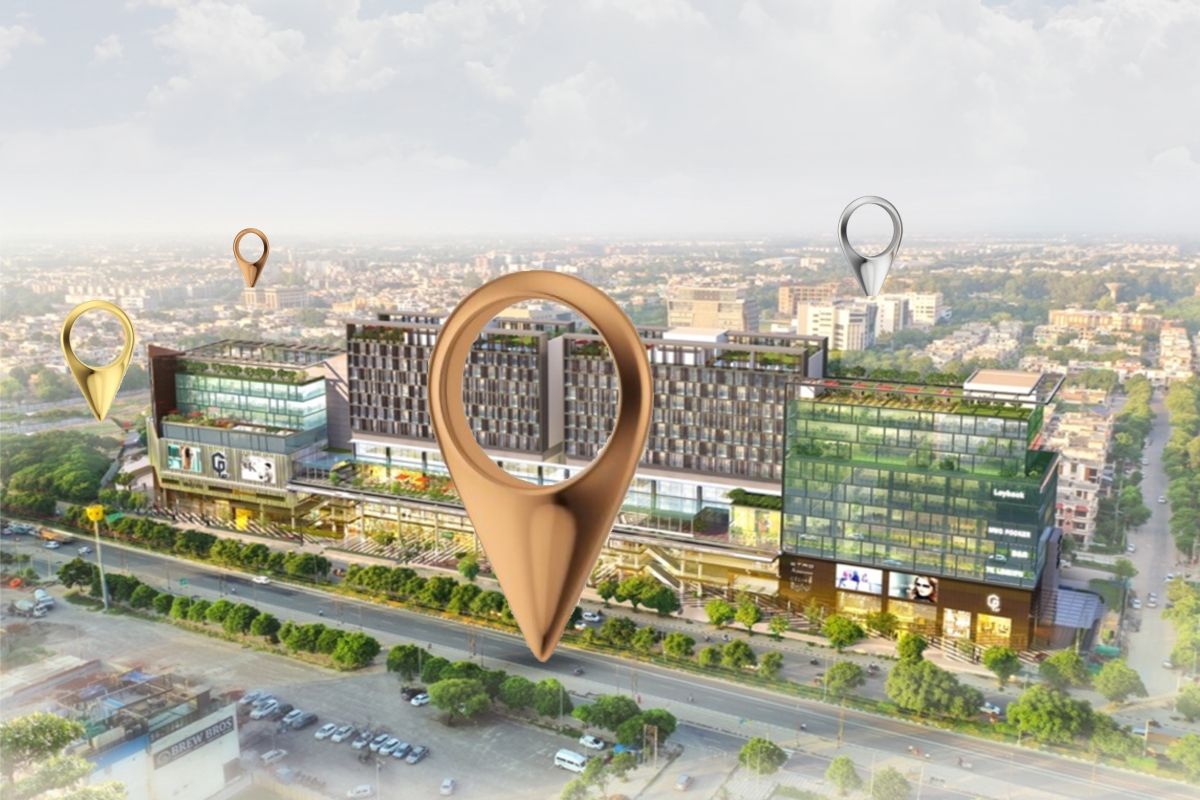 Here, with the locality, we mean that sometimes the value of the businesses located in the close proximity of your commercial space also plays a great role in increasing your business. In a similar way, a business that is not so good happens to be the tenant of your neighborhood space, it can have an adverse effect even on your business too.
Occupancy and Sales Cost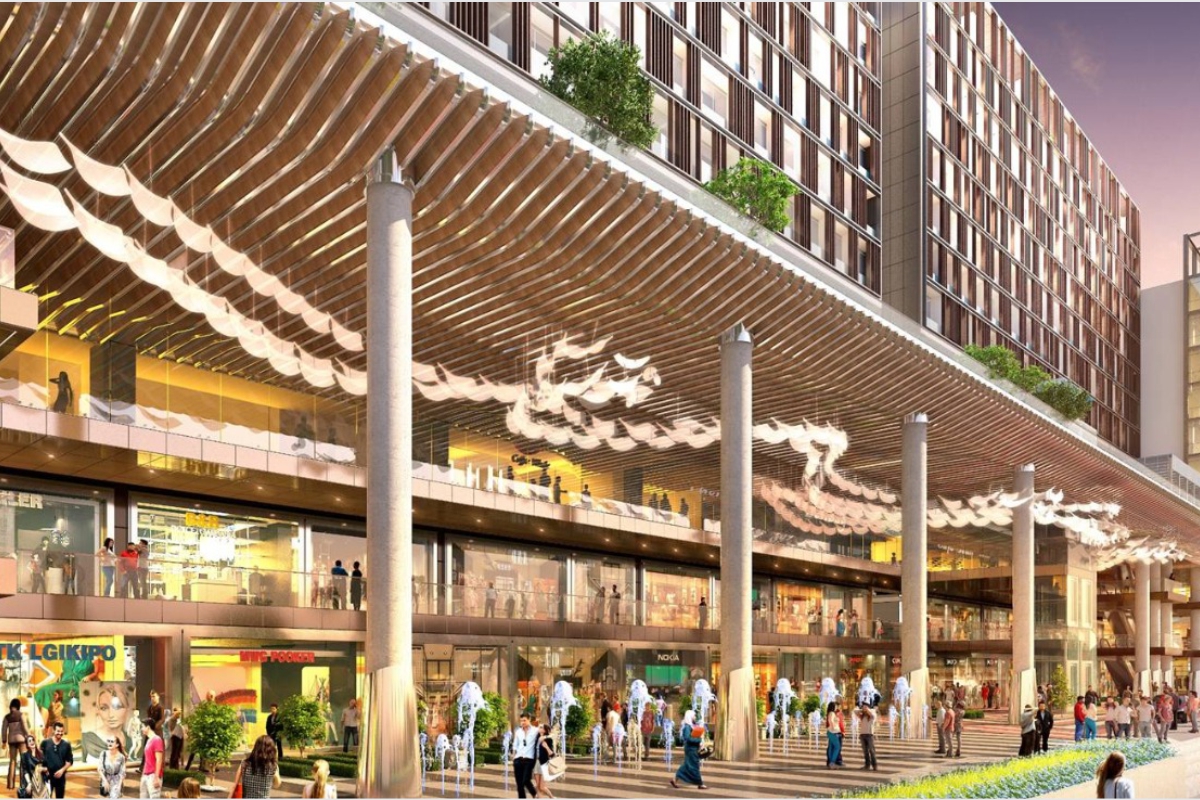 This comes as a last but a very important factor for us. You must examine that for what particular price of the commercial space, you can generate a particular revenue. Hence, you can make this comparison in the terms of percentage, and no matter if a place is costly but is within your budget, and has the potential of generating more revenue than a comparatively cheaper space, you must obviously go with the first option.
Final Thoughts
CP67 boasts of providing you with the commercial space at an address that matters! CP67 provides you with the most prestigious business address and hence if you are looking to invest in a commercial space, do trust CP67 to make a deal.
Cp67 New feed – Umang Jindal
This is undoubtedly the biggest and the most noteworthy development for CP 67 by Homeland Group.
Mr. Umang Jindal, Amity University alumni and an esteemed student of the respected University of Bath, has inherited the vision of his father and combined it with his undying passion for quality real estate. This has led to the young lad receiving a very coveted title from Karan Gilotra, Chairman, Punjab State Chapter.
Yes, Mr. Jindal has been appointed as the new chairman of the Punjab Housing and Urban Development Committee under the Punjab State Chapter of PHD Chamber for this year i.e. 2020!
This development is a result of the constant involvement and rich experience that have been displayed by Jindal in the field of real estate.
The Punjab State Chapter is now looking forward to several positive developments here after including constructive activities in the field of real estate and constant support for the membership drive in the state.
We all know that Umang Jindal has been playing a very pivotal role in the development of some of the most ambitious housing projects initiated by the Homeland Group across Mohali and several neighbouring regions of Northern India.
Mr. Jindal has also been honoured with the north India Entrepreneurs Award in 2014 all because of his extraordinary commitment towards development of real estate and expansion of his empire, all the while making more advanced, traditional and functional real estate products accessible to people of various income groups.
Umang Jindal is known for his relentless contribution towards and activities in the real estate market. With his upcoming project CP 67 he expands to reach investors and home buyers of every income group. This ambitious project boasts of 2,000 car parking slots and 126 apartments in addition to 165 office spaces. The dedication and motivation with which Jindal has worked to expand his inheritance and empower the real estate industry are phenomenal and these characteristics have led him to achieve so much at such a young age.
5 Critical Factors That Will Impact Your Decision To Move From A Home Office To A Commercial Office Space
You have started a business and eventually you will expect it to grow. Whether it is in terms of annual revenue, number of employees, the scale of projects, increase in cash flow, improved profit margins, enhanced goodwill or any other factor, you want your business to excel at it. One of the most crucial aspects of business growth that are quite often overlooked is its location.

If you are thinking about relocating your office from your home to a more functional and resourceful commercial office space, you might be able to realize your expansion and growth goals sooner than you think. Running a business from home can be comfortable but it hampers your growth and ultimately you end up making certain compromises with several professional standards that you could easily uphold if you were functioning from a traditional commercial space.
Following Is A List Of 5 Essential Things To Consider Whenever You Decide To Move From A Home Office To A Commercial Office Space
1. Decide Upon Your Budget
This is one of the biggest factors that you will have to consider when you are looking for a commercial office space. The place has to be affordable and functional. You would also benefit a lot from consulting a financial advisor regarding the potential income that can be generated from that commercial space. The area of the office along with many amenities attached to it is going to directly impact the final cost of your future office.
2. Consider A Co-Working Space
This is another consideration that you should never ignore when you are thinking about moving from your home office to a more productive external place of business. Co-working spaces are gaining popularity because of their very simple concept. Several studios and offices along with commercially owned floors and showrooms have been converted into co-working spaces that cater especially to the millennials around the country. You will have multiple options with regards to the size of your cubicle, the expanse of your desk, attached amenities, Wi-Fi facilities, refreshments and cafeteria, and much more all under a single roof! In return for all these superlative services, you will of course have to pay a monthly rent / lease which is again negotiable based on your workload and the number of hours you need the co-working space for
3. Easy Connectivity Of Office Location
Any commercial office space regardless of where its geographical location is, should always have excellent connectivity to nearby cities and commercial and residential hubs. For example, connectivity to the nearest:
Airport
Bus stand
Railway station
Recreational centers
Malls
Hospitals
Cafes and restaurants
Medical stores, and other important amenities is a very important factor when looking for a completely functional office space
It adds convenience, makes the office space easily accessible to all your employees via different modes of transportation and enhances the efficiency of your office operations. In the long run it also increases the value of your investment.
4. Relevant Services That Enhance Your Business Functionality
This is also a very critical point to consider. For example if you own an online grocery store, working from your home office will not be practical in the long run. You will eventually decide to relocate to a fully fledged and functional commercial space as your operations grow and your business flourishes. It will work out well in your favor if you can locate a local delivery service that caters to the region you are functioning in and is readily willing to partner with you for the same. Similarly, moving your wholesale bakery business to a commercial location that is studded with departmental stores and similar market areas that offer all the raw materials for your business is again going to be a critical factor that will impact your decision.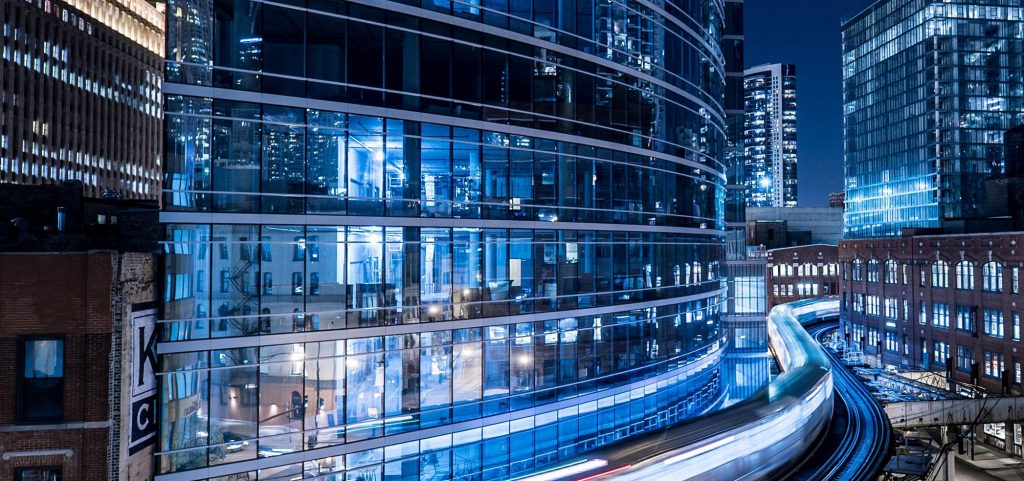 5. Special Amenities And Facilities That Define Your Corporate Space
There are several factors at play here. Easy connectivity with wide roads and properly lit up highways is one factor that we already mentioned. In addition to this:
Ample parking spaces
Secure tagging of all the vehicles coming in and out of your office complex
24/7 electricity and water supply
Clean and functional washrooms and recreational areas for all your teams
Conference halls properly equipped with the latest technology
Uninterrupted Wi-Fi services with high bandwidth
Well maintained air conditioners and overall insulation
Security measures that include both pass-code verification and biometrics as well and many other facilities would dictate this decision of yours
Remember, you are relocating to a specialized and highly functional commercial office space to make your business more efficient and earn higher profit margins. These amenities should never be compromised on.
Final Thoughts
Whether you are working from your home or from a dedicated commercial /corporate office space, your business cannot come to a halt. You have to constantly work towards progress and the goals that you have set for yourself as an individual and as an entrepreneur. A little bit of strategic planning and a lot of thought is going to go into this choice. Picking the right commercial / corporate / office space for your business will get you several steps closer to your ambition becoming a reality.
5 Ways To Stay Well Informed When Leasing A Commercial Property In Chandigarh Or Mohali
Mohali and Chandigarh industrial area give you a lot of options in terms of commercially leasable properties. Following is a little glimpse of some of the most popular choices that are much sought after:
Phase 8 Mohali, IT Park
This is one of the most popular commercial locations in Northern India where you can find large properties of up to 2000 sq ft. Go for it if you have a budget of about 1 to 1.2 lakh INR.
Sector 66 & 67, Mohali
IT companies and startups prefer this area a lot and if you have around 60,000 to 70,000 INR in your pocket, you may check this out.
Sector 82, Mohali
This is also very popular among businesses of all verticals having a budget of about 70,000 to 85,000 INR. Similarly, there are a number of other areas such as sector 118, sector 86, sector 74 and many other up-and-coming commercial hubs that promise a lot in terms of facilities, infrastructure, accessibility and potential for growth and expansion among other things.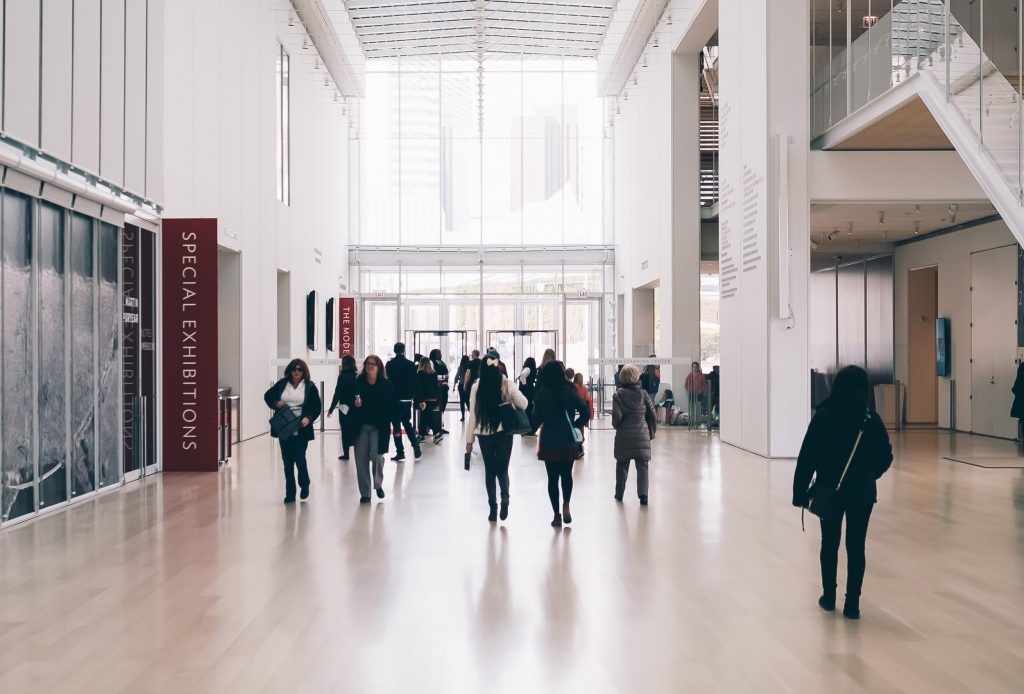 But things are not always as they seem to be. Investing in any of these avenues or leasable properties might as well remain an unfulfilled dream for you if you don't keep yourself well informed and up to date.
Follow These Tips Below Religiously If You Want To Secure The Right Commercial Property On Lease In Chandigarh Or Mohali
1. Engaging The Services Of A Commercial Real Estate Agent
You can easily find plenty of experienced and highly skilled commercial real estate agents in Mohali and Chandigarh. They will help you find the most strategic and productive location for your business. If you want legal advice on lease negotiations, they are the ideal resource. You can even ask them for assistance in finding landlords that offer improvement incentives in their leasehold contract.
2. Do Not Hesitate From Negotiations
You will always be advised never to accept the first / initial offer made by any landlord. Always try to negotiate the price or find a possibility for any concessions on the property you are about to lease. Remember, regardless of how much you are in love with a commercial property in Chandigarh or Mohali, be willing to walk away from it if you want to get the right price. This way, the landlord knows that you are negotiating from a strong standpoint.
3. Seeking Legal Help Before Signing On The Dotted Line
f you do not have the right legal advisor / lawyer by your side, you might end up signing on the wrong commercial lease. This might have negative repercussions for your business. Before signing on any legally binding contract, the document should be approved by your lawyer. Give him to perform a thorough scrutiny of the terms listed in it. Your legal advisor is going to work in your best interest and that of your business.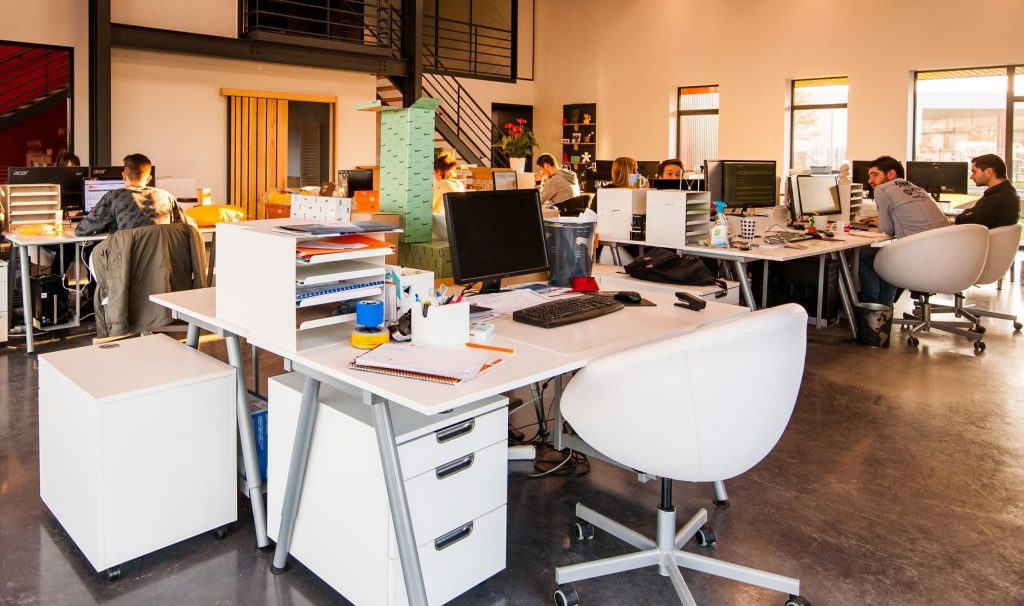 4. Talk About Improvement Costs
Whether you are looking for a commercial office space in Mohali or Chandigarh or any other neighbouring areas, there are always going to be some improvement costs involved. The property is not going to be handed over to you in perfect condition. Speak with your potential landlord about the required minimal structural improvements beforehand. All the expenses and terms of any improvement should be listed in the contract. Ascertaining this cost is critical because it is what makes the property usable for any tenant.
5. Love Thy Neighbours
Yes, it is plural. This is because in many cases you might be sharing the leased commercial space with a few neighbours. It could be a common washroom or a single cafeteria or may be a big yet common parking lot. Depending upon the degree of adjustments you have to make in this regard, you get more negotiating power too. Don't forget to ask for additional concessions if you know for sure that your neighbour is going to bring in excessive amounts of foot traffic or may result in a bit of extra strain on electricity or water supply due to the nature of their business. Having enough information about the business operations of your neighbours and the way they conduct themselves is very critical in making this decision.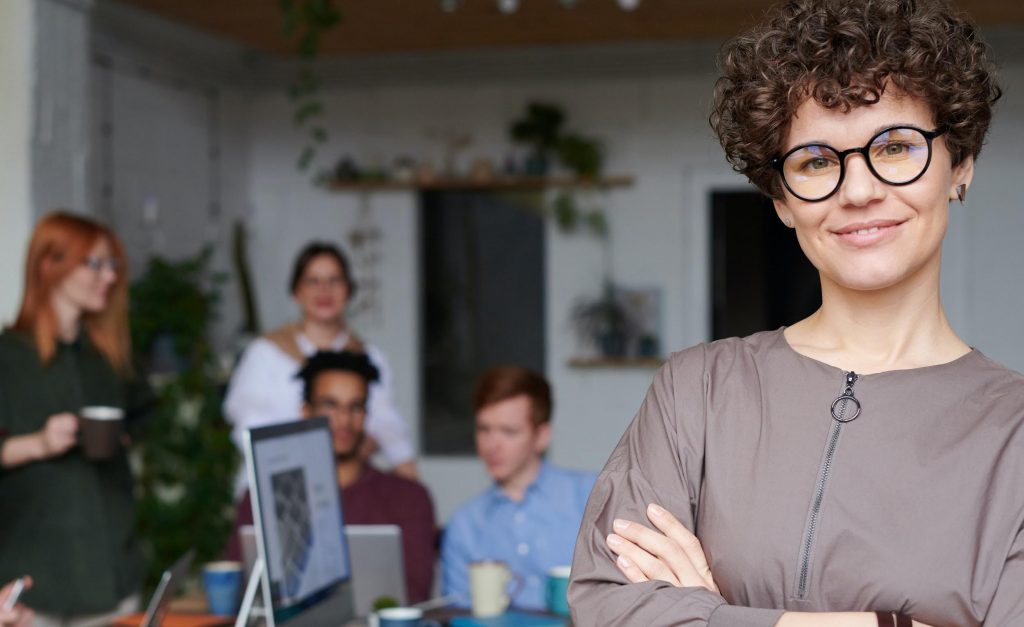 6. Litigation On Property
Finalizing a property is just not possible without taking into account the property litigation related terms. Make sure your office space is RERA approved and to ascertain that, a specialized consultation from a real estate agent / expert is a must. Look for any counselling procedures from real estate owners / developers for the same. Always look for the following crucial points with regards to the legality of your property:
La nd disputes if any with regards to previous and current ownership
Adverse possession claims
Breaches of lease contracts
Commercial lease renewals (contested and uncontested)
Assignment and subletting disputes
Landlord and tenant insolvency
MEES (Minimum Energy Efficiency Standards)
CRAR (Commercial Rent Arrears Recovery)
Dilapidation and repair matters
Mortgage possession claims
Injunctions and emergency court actions
Outstanding rent arrears
Infringement of property rights
Notices to terminate lease: landlord and tenant
Party wall and boundary disputes
Taking these points into consideration while picking a commercial property on lease will let you avoid all potential risks that might adversely affect your business's reputation and growth.