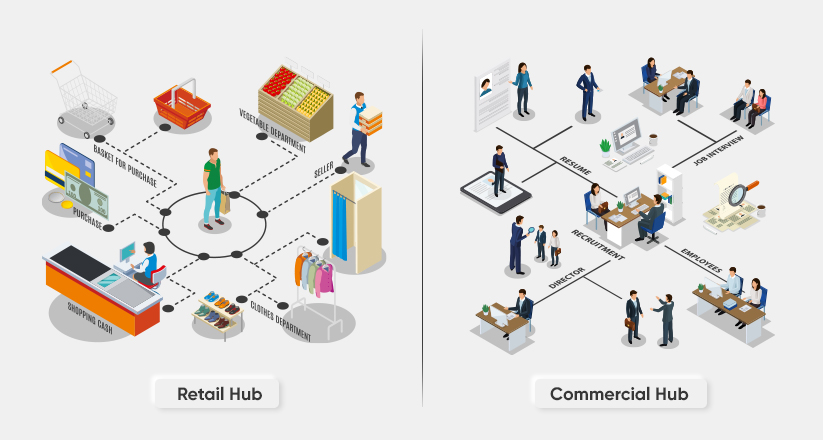 CP 67 – The Rising Commercial And Retail Hub Where You Should Be In 2020
CP 67 is a very lucrative option for both small scale and large scale investors in Mohali. It is an arena where people are going to shop and dine and get entertained. CP 67 is not just a collection of a few shops. It is an ambitious project that offers world-class corporate spaces, entertainment venues, food arenas, office spaces and a highly conducive infrastructure for IT services along with several options for retail spaces as well.
According to the current trends, sector 67 and nearby areas are developing at a rapid speed. The current price rate or the average price range per sqft goes from Rs. 2,209 to Rs. 46,000 per square foot. The average comes out to be Rs. 34,992 per square foot which is a 53% price rise recorded over a period of one year.
Connectivity And Infrastructure - The Undisputed Highlight Of CP 67
CP 67 is arguably one of the most profitable and cleverly thought about projects that we have seen in a long time. It is fast approaching its final stages of development and the biggest highlight of it is its strategic location. The Mohali International Airport is a few minutes away from this growing commercial hub. Other than this, there is a plethora of eateries, retail shops, schools and colleges, information technology hubs and plenty of facilities such as hospitals and rising startups, useful and affordable amenities and an overall world-class infrastructure that await its investors. In addition to this, it is also easily accessible from the International School of Business, Quark City, Mohali Railway Station, PCA cricket ground and even the most visited malls of the Tricity region. This seamless connectivity is what everyone wants right now and this is what CP 67 offers at a very affordable price.
Highly profitable corporate spaces that comprise six stories offices and smart office infrastructure with common pantry and attached washrooms
Well designed and superlatively structured retail outlets that will be housing the leading brands from not just all over the country but from across the globe offering world-class lifestyle goods, gadgets, apparel and accessories.
Upcoming information technology hub which will be functionally perfect and aesthetically appealing to the well-educated millennials of the Tricity region.
Food arena which is in high demand especially ever since the biggest food brands have entered into the Indian market.
Entertainment venues for everyone that will offer next-generation 3D and 4K video projection, super comfortable recliner seats and much more.
The current price trends of this region are showing an upward trajectory. These trends are going to help you as an investor to know whether it is the right time to invest in this location or not. You will be surprised to know that projects such as the CP 67 have made it possible for practically everyone to own a thriving commercial property in this highly lucrative sector of Mohali. If you have 1.4 lacs in your pocket, you can buy a reasonably trendy and strategically located commercial space in Mohali sector 67. The range goes up till 54.96 lacs and presents highly profitable options, especially for the middle class and upper middle class income groups. In this time and age, CP 67 presents a very viable, sound, practical and lucrative option for investment. To know more about this property and discover avenues that ensure steady and high returns, click here or visit CP67 right now!