The Homeland Chandigarh Horseshow
The Homeland Chandigarh Horse Show, India's largest annual equestrian festival, featured top-notch equestrian competition, extraordinary social events, devoted spectators, and an unforgettable flair.
It was held at the customary showgrounds at The Ranch, New Chandigarh, and featured top equestrian competitors from India competing in the jumping, dressage, and tent pegging disciplines. This year saw the first Chandigarh Derby and the debut of the city's first sports horse auction.
The Homeland Chandigarh Horse Show held its DERBY DAY on the LAST of its three carnival days, which featured EXEMPLARY horsemanship and entertainment. On Derby Day, the DERBY EVENT, a magnificent, opulent, and genuine championship in the equestrian world, was held for the first time in North India. A captivating jumping course, natural obstacles, perilous falls, and ONE CHAMPION made for the most thrilling Day ever witnessed by spectators.
However, it didn't end there. People witnessed performances unlike any other, the very special GALA, and the 6-BAR event, where the height keeps rising when the rider completes the round with 6 consecutive jumps.
Additionally, a unique horse parade featuring miniature horses was organized. These miniature horses included pure-bred Arabians from France, small Shetlands from Scotland, and traditional Gypsy Cob stallions imported from Ireland. Evening events included a fashion show where miniature horses strutted the catwalk alongside the models.
The Homeland Chandigarh Horse Show was inaugurated on November 4 at 11 a.m. by Dr. Gurpreet Kaur Mann, wife of Punjab CM Bhagwant Mann.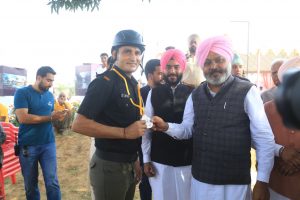 Constable Ajay Marathe won the derby competition on the last day of the Homeland Chandigarh Horse Show, while Head Constables Sandeep Singh and Gurjeet Singh finished second and third, respectively. The chief guest on the final day was Kultar Singh Sandhwan, Speaker of the Punjab Legislative Assembly, and Gurmeet Singh Meet Hayer, Cabinet Minister Punjab.
The final day's "Open Horse Auction" was a special feature of the Homeland Chandigarh Horse Show, which was held at "The Ranch" in New Chandigarh.
In this auction, Warm Blood, Arabian, Gypsy, Marwari, and other types of horses were offered.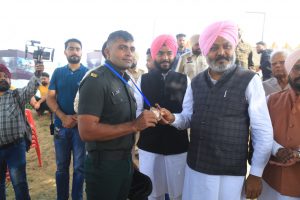 The organizers of the Homeland Chandigarh Horse Show provided thorough information on this by holding a press conference at the Press Club. Speaking about the first national-level auction sale of sports and rare breeds of horses held in India were Harsukhinder Singh and Bubby Badal, the founder of the BabbiBadal Foundation. Everyone was welcome to attend the open auction. There were no reserve prices, and the auction started at 11 am.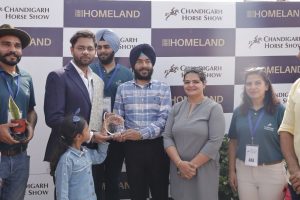 At this press conference, Deepinder Singh Brar, Harjinder Singh Khosa, Ranjit Brar, and Sajneet Singh Sandhu joined Harsukhinder. A significant equestrian event in the area, the Homeland Chandigarh Horse Show also provided a carnival atmosphere for the general public. The equestrian competitions this year, which began on November 2, culminated in a 3-day mega carnival from Friday, November 4, to Sunday, November 6.
Dressage, show jumping, and tent pegging competitions in equestrian sports were held at the exhibition. Every competition followed the rules established by the Equestrian Federation of India (EFI).
They had previously provided information about the show's schedule, which was as follows: the opening ceremony will be held on November 2 with tent pegging and a children's gymkhana program, followed by children's show jumping on November 3 and a horse parade on November 4. On November 4, there was also a dog acrobatics performance planned.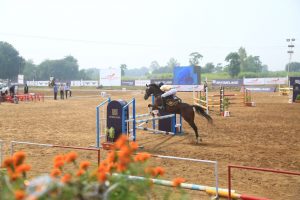 A horse high jump competition was held on November 5. The event of Derby Day and prize giving took place on November 6. This year, the Homeland Chandigarh Horse Show was a more exciting event than ever.
The week-long event, which was planned in collaboration with the Bubby Badal Foundation, was thrilling for everyone. On Sunday, November 6, the Chandigarh Derby was first featured on the show, which was sponsored by Pioneer Toyota. It showcased the best horse and rider combination over 1100 meters of natural obstacles.
The Homeland Chandigarh Horse Show attracted about 15,000 spectators this year, driven by last year's response. At this eagerly anticipated performance, guests were treated to specially curated food booths, unusual children's games, horse conversations, arena walks with live music in the background, and other events.
Homeland, the top real estate company in the area, served as the official title sponsor of the Chandigarh Horse Show this year as a sign of our dedication to fostering equestrian culture there.
THE EPITOME OF THE RETAIL INDUSTRY: MAPIC
Since its inception in 2004, MAPIC India, formerly known as the India Retail Forum (IRF), has served as India's premier annual event for retail brands to learn, develop, network, and experience the future of retail and retail real estate in the fastest-growing market in the world. Over two days, IRF promises to provide an exclusive opportunity for everyone in attendance - from up-and-coming retail brands to the major industry leaders - to meet and connect with the appropriate group of people. MAPIC has continuously been on the cutting edge of the retail revolution, introducing fresh location-based components while staying true to its core objective of bringing together retailers, developers, cities, investors, and specialists to understand, embrace, and advance amazing lifestyle destinations. This has resulted in the attendance of more than 80 nations.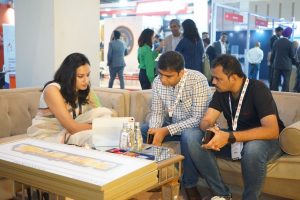 MAPIC has been at the forefront of these dramatic changes and has taken a leading role in embracing leisure, food & beverage, innovation, and the challenges of the new retail mix. Evolving consumer needs are forcing the industry to re-imagine the future of shopping destinations.
In the world's fastest-growing market, MAPIC India is the premier annual event for retail brands to learn, develop, network, and experience the future of retail and retail real estate. Over two days, IRF promises and presents an exceptional opportunity for everyone in attendance, from up-and-coming retail brands to significant industry leaders, to meet and connect with the right group of people.
The event, which took place on September 14th, 2022 at Mumbai's Jio World Convention Center, was a huge success! Key Handover took place at Mapic India 2022 from the groundbreaking mixed-use CP67 development project by Unity Group and Homeland Group!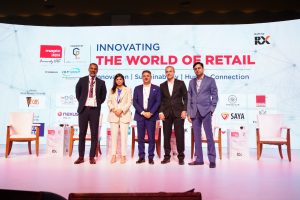 Mr. Nitin Gulati, AVP Head Leasing, spoke about the development pillars at MAPIC India, the most important annual retail event in India, which was organized by CP.67. Mr. Harsh Bansal, Director at CP.67, gave a very thoughtful description of the pandemic's effects and the ethically necessary solutions in the commercial sector's design.
One of the many economic effects of the current pandemic, according to Mr. Mrinal Mittal, Director at Cp.67, who spoke at MAPIC India, is that the commercial sector will see long-term changes in how its spaces are used.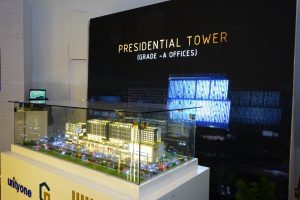 People may now prepare themselves for amazing experiences from their favorite brands, including PVR, Croma, Lifestyle, Max, M & S, and many more, in their neighborhood! To the enduring relationships and the exciting future that lay ahead!
Cp67 New feed – Umang Jindal
This is undoubtedly the biggest and the most noteworthy development for CP 67 by Homeland Group.
Mr. Umang Jindal, Amity University alumni and an esteemed student of the respected University of Bath, has inherited the vision of his father and combined it with his undying passion for quality real estate. This has led to the young lad receiving a very coveted title from Karan Gilotra, Chairman, Punjab State Chapter.
Yes, Mr. Jindal has been appointed as the new chairman of the Punjab Housing and Urban Development Committee under the Punjab State Chapter of PHD Chamber for this year i.e. 2020!
This development is a result of the constant involvement and rich experience that have been displayed by Jindal in the field of real estate.
The Punjab State Chapter is now looking forward to several positive developments here after including constructive activities in the field of real estate and constant support for the membership drive in the state.
We all know that Umang Jindal has been playing a very pivotal role in the development of some of the most ambitious housing projects initiated by the Homeland Group across Mohali and several neighbouring regions of Northern India.
Mr. Jindal has also been honoured with the north India Entrepreneurs Award in 2014 all because of his extraordinary commitment towards development of real estate and expansion of his empire, all the while making more advanced, traditional and functional real estate products accessible to people of various income groups.
Umang Jindal is known for his relentless contribution towards and activities in the real estate market. With his upcoming project CP 67 he expands to reach investors and home buyers of every income group. This ambitious project boasts of 2,000 car parking slots and 126 apartments in addition to 165 office spaces. The dedication and motivation with which Jindal has worked to expand his inheritance and empower the real estate industry are phenomenal and these characteristics have led him to achieve so much at such a young age.
7 Amazing Facts You Didn't Know About CP 67
CP 67 is already a very extremely popular and lucrative site for investment. It is owing to its location and the many facilities that it boasts about. Its strategic placement makes it close to the International Airport Road in Mohali and also links it to already existing and upcoming highways leading to many major stops and destinations in the north of the country such as Patiala, Ludhiana and New Delhi and NCR and many more.
The project brags about the most luxurious high street retail and office spaces. It is one of the very few offerings in Mohali that come with completely well-serviced apartments and the most awaited PVR multiplex with third-generation 3D and 4K projection. This project is going to be the first luxury hospitality venture in Mohali.
The Quality Of Steel Used
Did you know that the quantity of steel used in the construction of CP 67 is enough to wrap around the Tricity region twice and you will still have enough left to build a 2 story building? Yes, apparently CP 67 is one of the most ambitious real estate projects that the country has seen in recent times and this is quite evident here. Moreover, the quality of steel used in the construction of CP 67 is such that it can even be used to build a railway track that can easily last for more than 200 years, which is double the average age of a regular railway line.
Power Backup
Did you know that CP 67 is capable of producing 16.05 MW of electric power on its own? Its phenomenal power backup systems are constantly working to ensure the smooth and uninterrupted functioning of the numerous IT offices and retail spaces that it is going to house. This much electricity is more than enough to power the whole of sector 22 and some parts of the sector 17 market, including the ISBT! This is to say that the investors in this area, both residential and commercial will never ever face any shortage of power.
Concrete
Did you know that the amount of concrete used to build the many structures of CP 67 and its numerous facilities is enough to build the very famous Elante mall 10 times and we would still have enough left to make a boundary wall around those malls? CP 67 is one of the most prestigious projects in Punjab and is highly coveted because of its quality construction and the best in class materials used. Why else do you think the prices of this property are constantly rising?
Parking
Did you know that the parking area of this real estate project can make space for more than 1000 cars? Yes, this should not come as a shock to you because the number of offices, luxurious IT spaces and commercial units this sector offers is more than what any other fast developing project in the Tricity region has ever come up with in the past decade. To make life easier for all of them and to manage visitors seamlessly, this was a conscious call the developers made.
Solar Power
Did you know that each and every building constructed in the CP 67 project supports solar power generation? There has been a specific focus on installing kVA inverters that are capable of handling high loads. This means you can even run appliances such as geysers and ACs with solar power.
Made Of Glass
Did you know that the major section of your high rise building apartments and office units is made of high strength and weatherproof glass? This means that they let in all the natural sunlight during the day and that too without letting the harmful UV rays enter your space. You get to save more electricity with this intelligent choice of glasses that do not just protect your home from harmful weather but also prevent your furniture from fading in direct sunlight.
Ecosystem
Did you know that the Tricity region is already one of the cleanest areas and Chandigarh the least polluted city in the country? CP 67 is adding another chapter to this leaflet. It is going to be one of the most environmentally friendly places to invest in. Surrounded by lush and well-manicured green patches, this real estate project is going to offer an AQI ranging from 50 to 60 which is way more than that of Chandigarh (70 points on average). According to reports, only the best IT and telecom companies, marketing and advertising companies and consultancies are going to be investing in this region. The best in class retailers, corporate houses and franchisees are going to usher in a new wave of growth here very soon. To know more about the many incredible benefits of investing in this property, click here or visit CP67 right now!
CP 67 – The Rising Commercial And Retail Hub Where You Should Be In 2020
CP 67 is a very lucrative option for both small scale and large scale investors in Mohali. It is an arena where people are going to shop and dine and get entertained. CP 67 is not just a collection of a few shops. It is an ambitious project that offers world-class corporate spaces, entertainment venues, food arenas, office spaces and a highly conducive infrastructure for IT services along with several options for retail spaces as well.
According to the current trends, sector 67 and nearby areas are developing at a rapid speed. The current price rate or the average price range per sqft goes from Rs. 2,209 to Rs. 46,000 per square foot. The average comes out to be Rs. 34,992 per square foot which is a 53% price rise recorded over a period of one year.
Connectivity And Infrastructure - The Undisputed Highlight Of CP 67
CP 67 is arguably one of the most profitable and cleverly thought about projects that we have seen in a long time. It is fast approaching its final stages of development and the biggest highlight of it is its strategic location. The Mohali International Airport is a few minutes away from this growing commercial hub. Other than this, there is a plethora of eateries, retail shops, schools and colleges, information technology hubs and plenty of facilities such as hospitals and rising startups, useful and affordable amenities and an overall world-class infrastructure that await its investors. In addition to this, it is also easily accessible from the International School of Business, Quark City, Mohali Railway Station, PCA cricket ground and even the most visited malls of the Tricity region. This seamless connectivity is what everyone wants right now and this is what CP 67 offers at a very affordable price.
Highly profitable corporate spaces that comprise six stories offices and smart office infrastructure with common pantry and attached washrooms
Well designed and superlatively structured retail outlets that will be housing the leading brands from not just all over the country but from across the globe offering world-class lifestyle goods, gadgets, apparel and accessories.
Upcoming information technology hub which will be functionally perfect and aesthetically appealing to the well-educated millennials of the Tricity region.
Food arena which is in high demand especially ever since the biggest food brands have entered into the Indian market.
Entertainment venues for everyone that will offer next-generation 3D and 4K video projection, super comfortable recliner seats and much more.
The current price trends of this region are showing an upward trajectory. These trends are going to help you as an investor to know whether it is the right time to invest in this location or not. You will be surprised to know that projects such as the CP 67 have made it possible for practically everyone to own a thriving commercial property in this highly lucrative sector of Mohali. If you have 1.4 lacs in your pocket, you can buy a reasonably trendy and strategically located commercial space in Mohali sector 67. The range goes up till 54.96 lacs and presents highly profitable options, especially for the middle class and upper middle class income groups. In this time and age, CP 67 presents a very viable, sound, practical and lucrative option for investment. To know more about this property and discover avenues that ensure steady and high returns, click here or visit CP67 right now!
Treat Yourself to the most stress busting therapy!
There is a certainty. Then there is sense-certainty. Like the one you feel while touching, feeling and seeing perfection.
Rome was not built in a day. Certainly, We took quality time as well to make an equally lasting wonder.
You have the right to excellence. We have the privilege of delivering quality.
Walls, columns, corridors, rooms…your apartment needs a little more…thoughtfulness.